Top Android Binary Options Apps For 2014
It seems that Smartphone technology has become an integral part of our day to day life with an 'App' for virtually anything. You can now find a range of dedicated financial apps available for download to the latest SmartPhones.
While the Android operating system originally lagged behind its main competitor  iOS from Apple, it has quickly caught up in terms of functionality and operation.
Android from Google is now regarded as a direct competitor to its Apple counterpart. It increasingly gains market share and for many has become the system of choice for both Smartphone and Tablet users.
As a result brokers have been quick to develop a range of Binary Options Android Apps alongside iPhone apps. It is now the case that no matter which of these two devices that you own, you can access and trade on your account with dedicated software for your device.
What Does The Android App Provide?
There are a range of Binary Options apps that you can download from the Google Play Store. Many of these are provide educational or analytical resources which may prove of value to some traders.
However what we are focused here are those that are provided specifically by brokers for the purpose of trading. These are offered directly to clients with the intention of giving them access to their account features while on the move. These are judged on their ability to provide core trading functionality, essentially allowing traders to take their web based platform with them wherever they go.
Key features that these apps should be able to provide are the ability to deal on your account and perform core account functions. Being able to initiate new deposits and submit withdrawal requests are also desirable. Well developed apps that allow these functions to be carried out on an Android enabled Smartphone or Tablet can actually make the web based platform redundant.
Most can be downloaded for free from the Google Play store. You don't to open a live account with a binary options broker to try them out. If you expect to be trading from your mobile device frequently, it is a good idea to check out the app to ensure that it provides the functionality that you require.
Top Rated Binary Options Android Apps
AnyOption
Now at version 6, the Anyoption Android app is one of the most popular Google binary apps with over 500 user reviews. These mark this software as 4 out of 5 stars.
The good reviews and slick interface market this out as one of the better mobile trading solutions. You can trade Call/ Put options on your account, carry out your banking and link though to the brokers support directly from the interface.
The interface is nicely laid out and functions well with few glitches.  Multiple languages are supported including Spanish, Italian, Turkish, German, French, Russian, Chinese and Korean.
Check out the full AnyOption review here
Banc De Binary
The app provided by this broker offers a great range of stable features including dynamic charts for every asset that is provided by this broker. In addition to the charts it makes use of an intuitive touch screen control so that navigation through the screens is a swipe and tap affair.
Full account access allows you to access your full trading history, open new contracts on your account and deposit new funds.
This is one of the best Android binary options apps currently on the Play store. It scores a high, 4.3 out of 5 stars from reviewers.
Check out the full Banc De Binary review here
EZTrader
The EZTrader offering aims to takes the companies mantra of 'easy trading' mobile. It offers access to over 80 assets, clear charting and a fast and intuitive trading platform.
The interface is slick and easy to navigate thanks to a row of navigational buttons at the foot of the screen. You can carry out all major account functions as you would on the main web based platform.
EZTrader has one of the highest ratings on the Google Play store. Currently it is rated at 4.5 stars out of 5.  It works on versions 2.2 and above.
Check out the full EZTrader review here
TradeRush
The TradeRush Android app is a fairly slick affair that is based on the SpotOption mobile engine. It offers live and dynamic charts and instant trade execution  of every asset that is currently available for trading on the brokers web platform.
The app offers universal login credentials, a deposit feature and the ability to view your full trading history. It is currently awarded 4 stars out of five by reviewers.
The app is free to Traderush customers and can be used on Android devices that are running version 2.3 and above.
Check out the full TradeRush review here
Redwood Options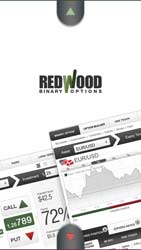 The Redwood Options solution is one of the newest on the market and makes use of the SpotOption mobile solution. This makes it a solid proposition with a slick interface which offers real time charts intuitive operation.
All of the key features that you would expect  to find are offered. These include a sixty second trading option, access to past option expiry and a full log of trading history. It requires a software version of 2.3.3 and above to run.
At the time of writing it had just been released and therefore had not received any reviews.
Check out the full Redwood Options review here
Non-Native Android Binary Options Apps
Some brokers simply offer mobile versions of their websites. These are not native Android apps in that they are not specifically designed to run on this operating system. However they offer a neat solution which is compatible with the widest range of mobile and tablet platforms using a single software solution.
24Option
At the time of writing the 24Option Mobile solution had received 66 5 star reviews and 37 1 star reviews. Overall the app is ranking as 3.5 stars out of 5. It is available in over 12 different languages including English, French, Italian, German and Spanish.
You can trade on all available contracts provided by the broker including High/Low, Touch/ No Touch and 60 second options. There is also a facility to view open trades and deposit funds to your account.
It can be downloaded for free for evaluation purposes but to trade you will to visit the brokers main website to open an account.