Binary Options Pro Signals - Update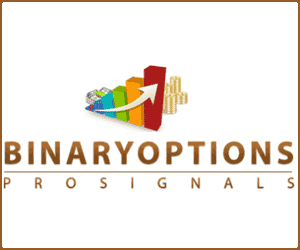 The Binary Options Pro Signals service provides email and SMS trading alerts which you can simply follow and place in your own trading account.
While not a completely new trading service, there have been some significant changes to the Binary Options Pro Signals service that we first reviewed here. (Follow this link for full live test results)
The two key changes to the service see an expansion to the range of assets that are traded and a choice of market session that you want to trade. In short traders will now receive signals on Indices, Forex pairs and Stocks. Expect to see alerts sent on EUR/USD, GBP/USD, S&P 500, Google, Apple, Coca Cola and more.
Traders can expect to receive somewhere in the region of 10 to 15 signals per day. This will depend upon market conditions.
The new service combines all the three previous trading services (Binary Options Pro Signals, European Signals and Stock Signals) into just one single set of alerts.
This increase in trading signals should yield a much higher potential for building profits. The same high strike rate of 74% associated with the previous individual services is expected to remain. If you check out the previous reviews (for the live BOPS test click here) you will see that this was a good service to follow. And of course now it should prove to be even better.
So will this new service see an increase in charges? Well thankfully not. The redesigned B.O.P.S is still made available for just $97.00 per month. Furthermore you can also try out the service for a full fourteen days for just $14 to test it out for yourself from the link below.