60 Second Binary Options
The Sixty second binary options contract is one of the newest trading contracts to be made available  by brokers. Originally launched by TradeRush on the SpotOption trading platform, the fast paced trading these options offer has captured the imagination of the trading community. As a result they are now widely available from all of the major trading platforms.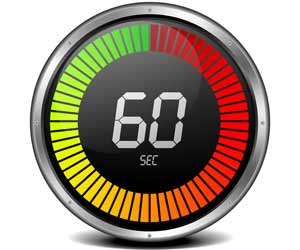 The Sixty Second contract works in the same way as the higher-lower binary options contact. You still have the choice of placing a Call or Put expiry and will have to work out if the price is going to finish higher or lower than the level at the point of purchase. The difference is that these contracts pay out in under 1 minute rather than the more usual hourly time-frame. This makes them the fastest way in which you can profit from binary options.
While many people have embraced them, they are not without their detractors. Trading over such a short time-frame is very speculative. It is difficult to forecast the direction that the price of an asset will move over such a short time period. Trading on this time-frame requires good technical analysis skills and also a strong mindset if you are to avoid the temptation of simply trying to 'bet' your way to profit.
If you decide to trade 60 second binary options then bear in mind that you need to find times of high market volume and volatility and set out a sound plan for money management. If you try to profit from trading them at  the end of the day or over quieter trading periods then you are unlikely to see sufficient price movement.
A further  point to consider is your broker. Both the spread on each contract and your brokers speed of execution offered will have  a significant impact on whether or not you make a profit.  High spreads and slow broker execution when trading with sixty second binary options can quickly kill off an otherwise potentially profitable strategy.
With only a few 'ticks' being the difference between winning and losing you can't afford any delays in the timing of your entry. You will therefore need to ensure you get a good binary options broker if you want to successfully trade with these contracts.
While brokers offer attractive payouts of 70%+ on these short term contracts, they are not the easiest to make consistent profits from. If you do plan to trade them then you should spend a good deal of time working out a strong money management strategy to accompany your strategy.
An Example Of The 60 Second Binary Options Contract:
At the opening of the market there is a lot of activity. Gold hits an upper pricing band on the 1 minute chart and you expect it to temporarily reverse. You open a contract at 1699.25, using a Put contract to capture this short term reversal. If in 60 seconds the price is below this level then you win the agreed payout.