Gold is perhaps one of the best known precious metals and holds a big attraction for individuals and trader alike. It is a key underlying asset and one of the most popular commodities contacts traded at binary options brokers.
The fascination with gold as both an object of desire and an investment is not something new. For centuries counties and individuals have measured their wealth on the value of their gold.
This precious metal has a big allure both as a prize and a jewel and importantly, as a reserve of wealth.
More recently gold has hit the headlines as a relative 'safe haven' asset. Financial instability and worries of falling share prices and the potential for the collapse of 'fiat' currencies has increased its popularity as a store and preserve of financial wealth. The physical nature of this asset has helped to rekindle investors love affair with the yellow metal.
Profiting From The Gold Price
Traditionally high barriers to entry have made it difficult to make money from movements in the gold price. Although now trading gold with binary options brokers is something we take for granted, it has not always been easy to gain access to this market.
Historically gold has been used more as a means of investment. Strategies have been largely 'buy and hold', involving the physical purchase of bullion or coins. This has been broadly prohibitive for most investors due to high capital requirements to purchase the metal in sufficient quantity. Furthermore physically holding gold also attracts storage and insurance costs. While the barriers to physical ownership have come down greatly in recent the years costs still remain prohibitive.
Another way to speculate on the gold markets has been to trade the spot price in the commodity futures markets. However here again the required high investment levels are a high barriers to entry. Not only will you need a capital requirements in excess of $10,000's to gain access to the market, you will also several times this amount to cover your margin requirements.
Benefits Of Gold Binary Options
The advent of the binary options marketplace has helped to provide a simple and convenient way to trade gold. All of the key benefits enjoyed on other asset classes are also applicable when trading gold.
There are in fact three key benefits of binary options gold contracts. These are:-
Low Barriers To Entry - The first of course is that you don't need high levels of capital to start trading. Contracts with most brokers can be opened for just a few dollars. This makes for a convenient way in which you can dip your toe in and out of the market as your analysis presents opportunities from which to profit.
Controlled Risk - The controlled environment and fixed risk that you get when using binary options to trade gold helps to provide capital protection from what is often a fast moving and volatile market. The gold spot price is well known for being volatile. Limited risks with binary options will remove the fear of sudden movements landing your account in the red or receiving a 'margin call' from your broker.
Flexible Strategy - Gold is often seen as a buy and hold investment. However with the ability to speculate on short term price movements, you can create an effective strategy for trading gold with binary options, specifically designed to profit from the price volatility of this market.
All the benefits of trading with binary options apply when you trade gold contracts in your account. You will know both your liability and the  fixed profit that you stand to make before you even make your purchase.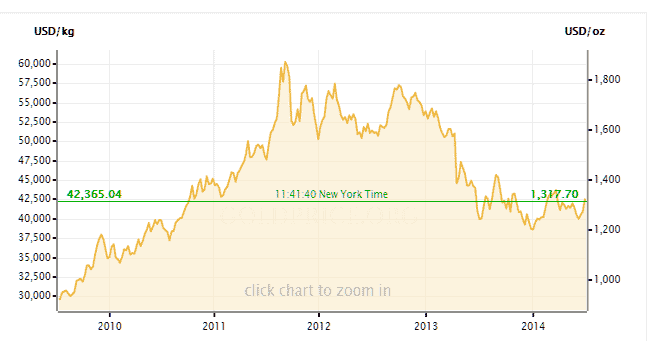 How To Trade Gold With Binary Options
The first thing you will need is an account with a broker that offers a good range of contracts on Gold. Most brokers with have Gold within their Asset Index and at the very least, will offer Higher or Lower Binary options contracts on this asset.
Of course these are not the only contracts that you can make use of for trading this commodity. In fact the price volatility associated with gold means that you can take advantage of other contracts to increase your payout. Check for the range of gold binary options offered by your broker to find out what's available.
Here are some ideas of  how you can use different contracts to trade gold.
Higher/Lower
The Higher or Lower binary option is a great way to profit from strong trends in the gold market. Contracts can be placed to earn a payout for both a rising or falling gold price. Simply open a contract backing the direction that you think the price will move.
Touch/No Touch
These contracts are a good way to play the volatile price action of the gold market. You select a price level that you expect the market to either 'touch' or 'not touch' before the contact expiry. For a Touch contract you receive a payout if the level is touched. For a No Touch contact the payout is made if the level is not touched before the contract expires.
Boundary
Boundary contracts are similar to Touch/No Touch contracts. The difference is that you set both a higher and lower price level or 'tunnel' for the price to either remain in or break out of. These can be useful during periods of lower volatility or when the market is marking time.
What Else Should I Know?
One of the principle drivers of the gold price is fundamental risk. While general market demand is an ever present driver of price, any signs of jitters in the market will likely see a sudden rush to gold.
When risk hits the markets the price of gold tends to head skywards. Similarly when the markets take a 'risk off' tone then the price tends to retreat. These fundamental drivers can dictate the price of this market for long periods of time which can give a number of opportunities to trade.
While fundamentals drive the bigger picture, you can make use of technical analysis to define your entry points. Techniques used to trade other markets can also be used to trade Gold.
If you are looking for a specific approach binary options gold trading strategy then be sure to take a look at our strategy section for ideas.
More From Binary Options Investor